Now currently defunct, DiC Entertainment has been acquired by Cookie Jar Entertainment.
Logos
1984-1987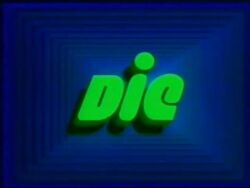 This was the first logo to appear on multiple shows. It appeared on Heathcliff and the Catillac Cats and Dennis the Menace, both on first-run syndication, and other shows from the mid-1980s, but is no longer seen on TV, and can now only be seen on VHS and DVD.
1987-1990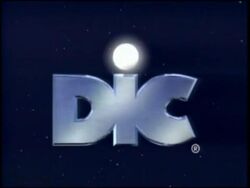 This logo, like the Vortex logo, is no longer seen on TV, although it still appears on VHS prints of The Super Mario Bros. Super Show and The Real Ghostbusters, both on first-run syndication. There were several other variants, including a sped-up version, the word "PRESENTS" appearing below the "DiC", and a choir singing "DiC".
1990-2001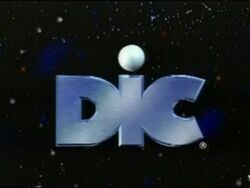 This version of the Kid in Bed logo is a bit more common than the previous logos. And like the 1987 DiC logo, it has several variants -- a sped-up version, another one has the byline "In Association with RETITALIA s.p.a. and TELECINCO" (seen from 1991-1994), an alternate version where the 1987 voiceover is used on this logo, and a different dreamy tune in which the voiceover is the same as seen in The Incredible World of DiC logo.
The logo appeared on Inspector Gadget, all 3 Super Mario cartoons on the Family Channel and USA Network, all 3 Sonic cartoons (especially when one of them aired on Toon Disney until 2002), Captain Planet, and many others.
2001-2008
This is probably the most common logo of all, as it has appeared on all 21st century shows, up to 2008. It also plastered older DiC logos on some DVDs, such as Inspector Gadget: The Original Series. In fact, you can actually see the IWOD logo in place of the 1983 custom logo before the LBS logo appears.
Several variants were used -- a sped-up version (from Super Mario Bros. Super Show), Sailor Moon, and a very sped-up version from The Littles. The very sped-up version is quite extinct, as The Littles was removed off the air in 2007.
The logo is now becoming less common, as Cookie Jar Entertainment's current logo now often appears at the end of many of these shows.
Cookie Jar Entertainment
With Cookie Jar Entertainment now owning the rights to all cartoons originally owned by DiC Entertainment and Cinar, this logo appears at the end of every of these programs. In fact, it appeared at the end of Adventures of Sonic the Hedgehog when it aired on the digital broadcast network This TV from 2010-2011.
Arthur also now uses this logo as of 2008 on PBS and PBS Kids stations.
NCircle Entertainment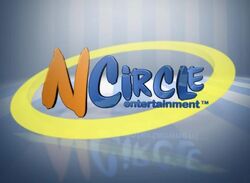 All six Mario and Sonic cartoons contain this logo when seen on DVD.
Weblinks
As of September 2019, all weblinks redirect to wildbrain.com.