My Little Pony: Friendship is Magic: Friends and Family began producing DVD copies on April 18, 2016, before it was released on June 7, 2016.
Synopsis
You Don't Necessarily Have To Be Related To Be Family!
Twilight Sparkle returns with Applejack, Rarity, Pinkie Pie, Rainbow Dash, Fluttershy and Spike to celebrate the magic of friendship and family! Come watch as Apple Bloom, Maud Pie, Big Mac and others demonstrate that best friends can certainly be family. And family can certainly be best friends!
Episodes
One Bad Apple (Season 3, episode 4)
Maud Pie (Season 4, episode 18)
Hearthbreakers (Season 5, episode 20)
Brotherhooves Social (Season 5, episode 17)
The Gift of the Maud Pie (Season 6, episode 3)
Probabilities of appearances in this DVD
Pinkie Pie
38%
Applejack
29%
Rarity
25%
Twilight Sparkle
10%
Rainbow Dash
9%
Fluttershy
8%
Videos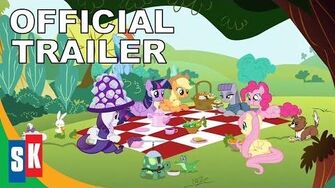 Community content is available under
CC-BY-SA
unless otherwise noted.