Ever since Nickelodeon Studios opened in 1990, Nickelodeon launched its old well-remembered logo on television and everywhere across the United States.
The Nickelodeon Productions logo first appeared in the early 1990s, and throughout the years, changed from time to time. In fact, there were two divisions of it: the live action Nickelodeon Productions and Nickelodeon Animation Studios.
The first logo shown below, split into three season years, can be seen on shows like Doug, Rugrats, The Ren & Stimpy Show, Rocko's Modern Life, and Aaahh!!! Real Monsters.
Many live action Nickelodeon shows had this logo, starting with All That on April 16, 1994, and continuing with Kenan & Kel, The Amanda Show, and several others, on channels such as the basic cable network Nickelodeon, and later on the digital cable network The N (later renamed TeenNick).
Starting on December 24, 1994, the "Nick Jack" logo was used during All That's first season, which never aired outside of the basic Nickelodeon channel after 2005.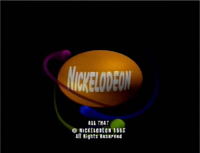 The "Nick Atom" appeared on Season 2 of All That (including the Good Burger Special) since 1995, and also on Kenan & Kel's first season in 1996, when both shows were filmed at Nickelodeon Studios at that time. This logo was last seen on reruns of Kenan & Kel's first season on TeenNick's nightly block, The '90s Are All That from 2011 to 2014. It can still be seen on both shows through digital downloads, like Amazon Instant Video and iTunes.
A much more popular logo on live action Nickelodeon shows, the "Nick Lightbulb" logo first appeared in Season 3 of All That in late 1996. It later appeared on more shows such as Kenan & Kel, Figure It Out, The Amanda Show, Double Dare 2000, early episodes of iCarly from 2007, and of course, the ENTIRE remainder of All That, all on Nickelodeon, then later on Nick GAS, Noggin, and The N.
The logo shrank a little in late 1997, and remained this way through 2007.
On DVD releases of The Amanda Show from Paramount Home Entertainment, these logos are used on all three volumes.
From September 26, 2009 to May 2017, all brand-new Nickelodeon shows used the logo shown on the left, followed by the logo on the right later in May 2017.
Websites