Peter Pan was last released in theaters on July 14, 1989, before it was released on VHS a year later in 1990. But yet again, no Buena Vista Distribution logo is there in the film.
The laserdisc had no previews; instead, replacing all of the previews is the LaserVision logo.
The earliest copies of Peter Pan were printed in March 1990, and the price for Peter Pan was $24.99. The sale for this video and The Little Mermaid ended on April 30, 1991, the former selling 7 million copies. After that, Peter Pan was last re-issued in European theaters in 1992, and released on video in 1993.
VHS Supplements
In Other Countries
Country of origin
Release date
Japan
July 5, 1991
March 15, 1996
(re-release)
United Kingdom
March 15, 1993
Australia
March 5, 1993
South Korea
April 28, 1994
Television broadcasts
Peter Pan premiered on the Disney Channel on September 21, 1991, and remained on the Disney Channel through at least November 29, 1991.
Gallery
Videos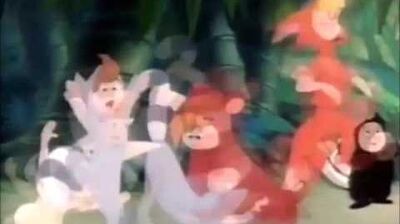 Websites
Merchandising