Sony Wonder was the children's entertainment and record label owned by Sony Music Entertainment.
Golden Books Family Entertainment
Long before Sony Wonder, media based on children's books was published under the name "Golden Book Video". This includes VHS tapes comprising of episodes from the 1986 My Little Pony cartoon.
Random House Home Video
Co-distributing most Golden Book Video titles was Random House Home Video, who re-released three Dr. Seuss films in 1992.
Sony Wonder
From 1994 to 2008, Sony Wonder bought the rights to all Random House Home Video titles, and from 1992 to 2008, Golden Book Video titles as well.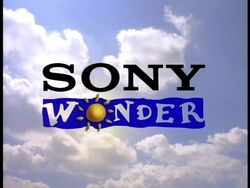 In 1995, Kid Vision sold its distribution rights for Kidsongs videos to Sony Wonder, who released the last four videos and Season 3 of The Kidsongs Television Show. The logo was also seen at the end of the ten of the 24 videos that aired on PBS as special presentations in 1998 and 1999. Following this logo would be the WTTW Chicago and American Program Service idents, both of which were seen on other shows that aired on PBS during the late 1990s but were not actually PBS originals.
Our Time Family Entertainment
While the first six seasons of Arthur were released by Sony Wonder, distribution rights for the next two seasons from 2002-2003 were held by Our Time Family Entertainment. However, only three DVDs were released from the company -- Arthur Gets Along, Arthur's Family Ties, and Growing Up with Arthur, for a total of only nine out of 40 episodes.
Before Sony Wonder shut down in 2008, most of its media rights were sold to Warner Home Video, while the company itself was sold to Sony Pictures Home Entertainment. This resulted in all home media previously distributed by Sony Wonder immediately going out of print, such as all the Arthur DVDs, including those from Our Time.
Weblinks
Community content is available under
CC-BY-SA
unless otherwise noted.