In 1984, Columbia Pictures, along with American television networks HBO and CBS created a new joint venture called TriStar Pictures. Today, just like Columbia Pictures, TriStar is also owned by Sony Pictures Entertainment.
1984-1993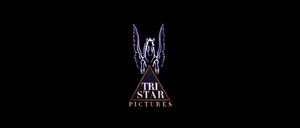 TriStar Pictures was founded in 1982 as a new joint venture created by Columbia Pictures, HBO, and CBS. Their first logo shown above began with Where the Boys Are '84 (1984), and is still seen on films from the mid-1980s to early 1990s. Examples are Hook (1991), Basic Instinct (1992), City of Joy (1992), and Candyman (1992) and the last film to use this logo was Cliffhanger (1993), first released on VHS on November 17, 1993.
Since April 1993, the logo has always appeared on Hook whenever it aired on ABC, Showtime, The Movie Channel, TBS, ABC Family, BBC America, and Disney XD. Strangely, it also appears on Matilda (1996) when rerun on ABC Family.
In 2004, KRS Logos claimed this logo to be from 1982 to 1992.
1993-2015
The 1993 TriStar Pictures logo was first seen in theaters on June 25, 1993 (one week after the current Columbia Pictures logo) with Sleepless in Seattle (1993). The same byline from the Columbia logo is seen on films from December 1995 to February 2014, starting with Jumanji (1995). This logo can also be seen on films including Matilda (1996), Jerry Maguire (1996), Starship Troopers (1997), The Mask of Zorro (1998), the English dub version of Cowboy Bebop: The Movie (2001), The Trumpet of the Swan (2001), Planet 51 (2009), District 9 (2009) and Soul Surfer (2011) and ending with Pompeii (2014). The new Sony byline starting with Heaven is for Real (2014).
The logo was first seen on VHS on November 10, 1993.
October 9th, 2015-Present
The new TriStar Pictures logo was first seen in theatres on October 9, 2015 with The Walk (2015) and is seen on subsequent films such as T2: Trainspotting (2017).