Programs distributed by Universal Television date back to 1963, a year after MCA bought Universal Pictures and made it an MCA company.
1964-1969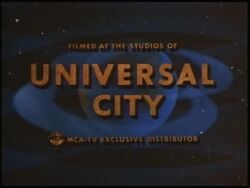 In 1964, MCA merged Universal Pictures and Revue Productions to establish Universal City Studios. This was the first logo to feature the MCA globe. It appeared on many shows from the 1960s, such as The Munsters on CBS, Nick at Nite and TV Land, and Run for Your Life on NBC.
1969-1973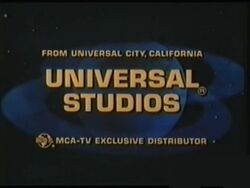 A little more difficult to find than the previous logo, but shows from the early 1970s might still have this logo when reran on digital broadcast networks like Me-TV.
1973-1975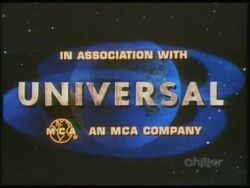 This logo is even harder to find than the first two. Shows from the mid-1970s may still have it.
1975-1991
Much easier to find than the previous logos, it virtually appears on all Universal Television installments from the 1980s.
1991-1997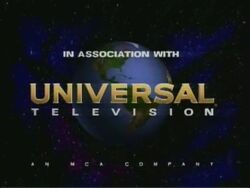 For MCA's last six years as partners with Universal Studios, this was their last logo.
1997-2004
Shortly after the 1997 Universal Pictures logo premiered in theaters, television programs began using this next logo. It still appears on reruns of shows from the late 1990s and early 2000s.
2004-present
After the previous logo ended, people gradually became aware that Universal Television had just merged with NBC Studios to become NBC Universal Television. This is the only logo they have used by far.
2011-present
As of October 13, 2011, this logo is currently seen on new programs from Universal Television, many of them airing on NBC, such as The Tonight Show with Jay Leno (2010-2014).
Seen to the right is the actual next NBCUniversal Television logo.